SMD Partner Newsletter – January, 2010
To all SMD Partners:
Having recently attended CES 2010, I can assure you that the landscape of our industry is radically different than what it used to be. One thing that has not changed (and will not) is the old adage - Excitement breeds excitement! Case in point - Steve spent three days in the Palms Hotel shaking things up in the Rockford Fosgate suite. Retailers, distributors, international distributors, and consumers lined up to meet Steve and get a listen to his Tahoe. Thanks to Rockford Fosgate for partnering with us on this opportunity!
I've said for years that a vehicle full of big woofers will elicit the same response from people today that it would in the heydays of our industry. Steve continues to drive that point home. By sharing his excitement and enthusiasm for over the top car audio with the world via the internet, he has built an empire of sorts. The number or people that choose to follow Steve continues to grow by staggering proportions. SMD's social networking efforts drive thousands of people to the web site each month. On average, over the last 6 months, 540 new members sign up to SMD each month. SMD's growth at You Tube can only be described as jaw-dropping - averaging 2.4 million views monthly over the last six months!
SMD Members have widely varying interests; but, they all share a love for car audio, exciting new electronics, and performance products for their vehicles. As an SMD Partner, you have the unique ability to capitalize on our efforts by being a member of our community. Thanks for being part of the largest car audio community on the web!

November and December were both BIG months for us in traffic, December being our biggest ever! Below is the updated traffic graph from our host - note the steady increase in traffic for the entire year, proving that the SMD Partner program has worked as intended: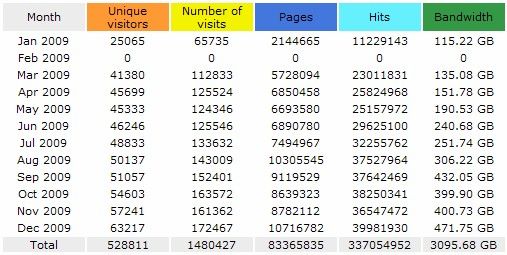 SMD Traffic Data for 2009 - Please note that the site underwent a server change
in Jan and Feb of this year so the data for those months is incomplete.
Note that November had slightly fewer overall hits, but our highest number of unique visitors to date! In December, we had record numbers across the board with nearly 40 million hits and over 63,000 unique visitors! At the time of this writing, http://stevemeadedesigns.com has 12,448 registered members.
Home to a big chunk of the SMD video collection, this web site continues to be a great way to direct users to http://stevemeadedesigns.com. According to our host, the following are clicks from this site to the main site. The chart below includes directs from You Tube so that you can get an idea how effective this site is:
| | | | |
| --- | --- | --- | --- |
| | http://www.youtube.com/user/meade916 | http://www.smdmedia.net | http://smdmedia.net |
| November | 3,419 (#2) | 3,830 (#1) | 1,648 (#3) |
| December | 3,394 (#2) | 3,451 (#1) | 2,154 (#3) |
Banner placement at SMDMEDIA.NET is a great way to get users to notice your message!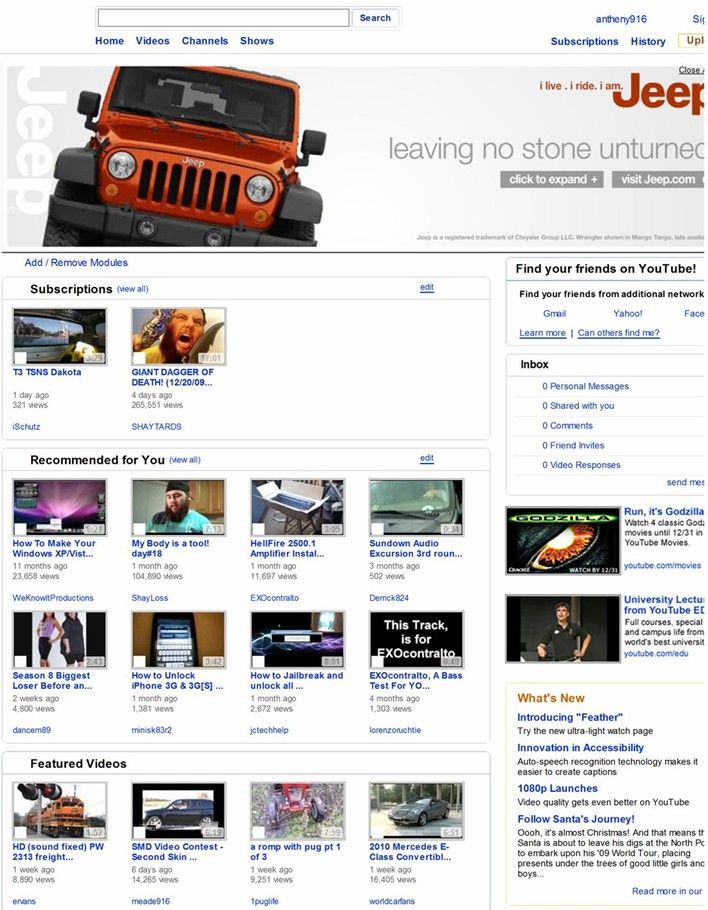 You Tube is typically our largest referral base to the web site and for good reason.The SMD You Tube Channel is now frequently inside the top 50 of all You Tube Channels viewed - I've seen it as low as # 32 most viewed. Since the November SMD Partner Newsletter, we moved from #5 ranked and #12 most subscribed (All Time) to # 2 ranked and #9 most subscribed in the Autos & Vehicles category. At the time of this writing, we have 34,438 subscribers and have nearly eclipsed 37,000,000 total views with 36,922,779. This is a moving target as this number changes every time my screen refreshes.
Note another home page feature (at the bottom left with the black Tahoe) in the pic at the left!
Here are the facts and statistics from You Tube in regards to our activity there. The bottom graphs are screen shots directly from You Tube's Insight.
| | | | | |
| --- | --- | --- | --- | --- |
| | | | | |
| November | | | | |
| December | | | | |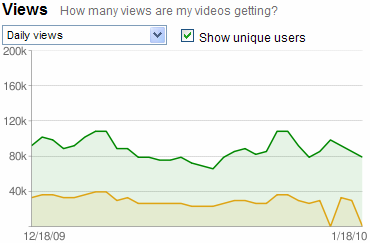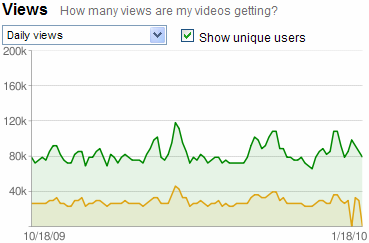 Our Platinum Level Partnership programs offer the ability for SMD Partners to have a video featured on the SMD You Tube Channel. The key to views is subscribers, and we've got 'em! We also offer this option to all SMD Partners - I'm happy to provide details in regards. This is an excellent way to get your message to the masses.
Other Components of the SMD Web Community





Click on any of the above to take you directly to that part of the SMD Web Community
SMD on myspace.com
456 new friends joined in November and 452 more in December. This brings the total to over 11,000 friends. We have over 340,000 video views at myspace, as well as nearly 300 video subscribers. This is in addition to embedded videos from You Tube.
SMD on facebook
Facebook continues to experience the highest growth rate of all facets of the SMD Web Community. 922 new friends joined in November, and 1,253 joined in December. We actually exceeded the number of friends that a facebook member can have (5,000) and have added a facebook Fan Page to give new members a place to join. Collectively, we have over 6,100 total friends & fans on facebook as of this writing.
SMD on twitter
Between November and December, we added 236 new followers. As of this writing, we have 1,164 followers and climbing!
SMD Member Holiday Newsletter
The SMD Member Holiday Newsletter was our first to showcase specific products and technologies from SMD Partners. I featured content from all SMD Partners that chose to supply me with it. The SMD Member Holiday Newsletter was sent to over 12,000 SMD Members. [That's 12,000 of YOUR core demographic!] In addition, Steve posted it at myspace, facebook, and twitter for all to see. Combined, this is a massive audience!
If you don't get the SMD Member Newsletter, then you simply need to sign up as a member of the forum and you will automatically receive them. Or, you can CLICK HERE and be directed to the news page on my web site and you can access all of them.
I'm constantly looking for exciting stuff to put in this newsletter. If you have something that you'd like for me to include, send it to me in an Email titled "SMD NEWS" - if it fits, I'll include it.
SMD Partner Updates
Please welcome Iraggi Alternators, DC Audio, and FutureVisionHID.com as our newest SMD Partners! This brings our total to 11 Partners. At SMD, we get the traffic . . . let us help you capitalize on it!
Thanks for your support of SMD! Incidentally, if you're receiving this newsletter and are not presently an SMD Partner, then it means that we'd like for you to become one! Any questions . . . just Email or call me.
Tony Candela
(602) 999-0942 cell
tony@candela-sales.com
www.candela-sales.com